Hello and welcome to our blog post about paddleboard rentals in Pompano Beach, Florida, offered by 2nd Street Surf Shop! If you're looking for a fun way to explore the beautiful waters of South Florida, then renting a paddleboard is the perfect option for you. In this post, we'll be sharing all the information you need to know about renting a paddleboard from our shop.
First of all, let's talk about what paddleboarding is. Paddleboarding is a water sport that involves standing on a board and using a paddle to navigate through the water. It's a great way to get some exercise, enjoy the beautiful scenery, and even spot some marine life. Pompano Beach is a great location for paddleboarding, as the water is usually calm and clear, making it easy to spot fish and other creatures.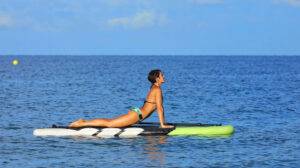 Now, let's talk about renting a paddleboard from 2nd Street Surf Shop. We offer high-quality paddleboards that are perfect for beginners and experts alike. Our paddleboards are made of durable materials and are designed to be stable and easy to maneuver. We also provide all the necessary equipment, including paddles and life jackets, so you don't have to worry about bringing anything with you.
When you come to our shop to rent a paddleboard, our friendly staff will be happy to assist you. We'll help you choose the right size and style of board for your skill level and preferences. We offer hourly, half-day, and full-day rentals, so you can choose the option that works best for you. Our prices are very reasonable, and we offer discounts for multiple rentals or long-term rentals.
Before you head out on the water, we'll give you a brief lesson on paddling technique and safety. We'll also provide you with a map of the area and some recommendations for places to explore. Pompano Beach has several great spots for paddleboarding, including the Intracoastal Waterway, the Hillsboro Inlet, and the nearby nature preserves.
While you're out on the water, you'll have the opportunity to see a variety of marine life, including fish, dolphins, and sea turtles. You can also explore the mangrove forests and see the many birds that live in the area. Paddleboarding is a great way to get close to nature and appreciate the beauty of South Florida.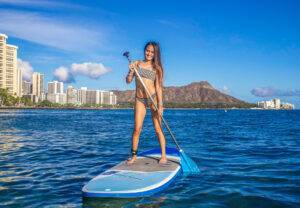 When you're finished with your paddleboarding adventure, you can return the board to our shop and we'll take care of the rest. We'll clean and sanitize the board and equipment, so it's ready for the next customer. We take pride in providing a high-quality and safe paddleboarding experience for all of our customers.
Renting a paddleboard from 2nd Street Surf Shop in Pompano Beach, Florida, is a great way to enjoy the beautiful waters of South Florida. Our high-quality equipment, friendly staff, and reasonable prices make us the perfect choice for your paddleboarding adventure. So come on down to our shop and get ready for some fun in the sun!
We have Surfboard, Boogie Board, and Skimboard Rentals too!